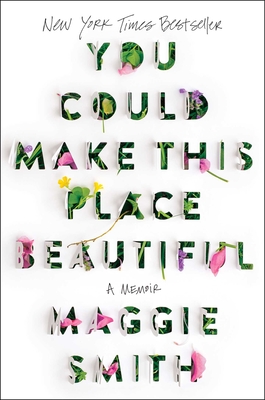 You Could Make This Place Beautiful: A Memoir
Publication Date:
April 11th, 2023
Publisher:
Atria/One Signal Publishers
Usually Ships in 1 to 5 Days
Maggie Smith's first memoir digs deeper into her life after divorce. The writer zooms in close and then offers wider shots, back and forth, to slowly reveal her heart, and in the process, she discovers her power to create something new.
April 2023 Indie Next List
Description
INSTANT NEW YORK TIMES BESTSELLER
"This book is extraordinary." —Ann Patchett
Named a Most Anticipated Book of 2023 by Good Housekeeping, Goodreads, Zibby Mag, Newsweek, BookPage, and LitHub
The bestselling poet and author of the "powerful" (People) and "luminous" (Newsweek) Keep Moving offers a lush and heartrending memoir exploring coming of age in your middle age.
"Life, like a poem, is a series of choices."
In her memoir You Could Make This Place Beautiful, poet Maggie Smith explores the disintegration of her marriage and her renewed commitment to herself in lyrical vignettes that shine, hard and clear as jewels. The book begins with one woman's personal, particular heartbreak, but its circles widen into a reckoning with contemporary womanhood, traditional gender roles, and the power dynamics that persist even in many progressive homes. With the spirit of self-inquiry and empathy she's known for, Smith interweaves snapshots of a life with meditations on secrets, anger, forgiveness, and narrative itself. The power of these pieces is cumulative: page after page, they build into a larger interrogation of family, work, and patriarchy.
You Could Make This Place Beautiful, like the work of Deborah Levy, Rachel Cusk, and Gina Frangello, is an unflinching look at what it means to live and write our own lives. It is a story about a mother's fierce and constant love for her children, and a woman's love and regard for herself. Above all, this memoir is an argument for possibility. With a poet's attention to language and an innovative approach to the genre, Smith reveals how, in the aftermath of loss, we can discover our power and make something new. Something beautiful.
Praise for You Could Make This Place Beautiful: A Memoir
"Rich in nuance and unrelenting in its honesty, Smith's memoir is a bittersweet study in both grief and joy."
—TIME
"This book is extraordinary." 
—Ann Patchett
"A beautiful book...stunning."
—Oprah Daily
"A triumph"
—Mary Louise Kelly, NPR
"Smith turns to prose to chronicle the end of her marriage and the hard, beautiful work of loving and valuing herself."
—People
"Sparkling & brilliant. Maggie was able to put into words things I've always felt as a writer and a human."
—Daisy Perez, CBS Mornings
"[An] elliptical, inquisitive book"
—Buzzfeed
"This book is a gift."
—Leslie Jamison, bestselling author of The Empathy Exams
"Beautifully written... Smith should be just as celebrated for her prose."
—Town and Country
"Incredibly relatable...At turns devastating and darkly funny."
—Columbus Monthly
"You Could Make This Place Beautiful is about recognizing your own worth in your relationship, and in the world."
—Slate
"A poet's memoir... [Smith] has an uncanny ability to boil down giant ideas into tiny, dense sentences that are both playful and heartbreaking."
—Shondaland
"An anatomy of....an artist stepping into her own light, of a mother working out how to create a loving family on her own."
—BOMB
"Smith's prose is as warm and welcoming as her poetry."
—Chicago Review of Books 
"Smith opens her heart like a book, dog-earing moments both painful and joyous...Smith's conjuring of beauty through pain and her special blend of vulnerability and encouragement go down like a healing tonic."
—Booklist (starred review)
"You Could Make This Place Beautiful is a sparklingly brilliant memoir-in-vignettes that only Maggie Smith could write. Yet this is a book for everyone—who among us has never had our world upended by the loss of a relationship? Maggie Smith's powerful mastery of language, and amazing ability to portray life in all its rich messiness, is on full display in this bold, brutally candid, and yes, beautiful, book."  
—Isaac Fitzgerald, New York Times bestselling author of Dirtbag, Massachusetts
"In this lightning bolt of a debut memoir, Maggie Smith gives us the truth of healing in form as much as story: getting through is no pretty, linear narrative. It's one chapter forward and five chapters back. You Could Make This Place Beautiful gave me back a part of myself I thought was gone for good: the knowledge that beauty isn't something out there to find. It's in us."  
—Megan Stielstra, author of The Wrong Way to Save Your Life 
"Listen, you may not need me to tell you what you already know about the shining star that is Maggie Smith, but you can certainly add me to the chorus of those singing her praises about You Could Make This Place Beautiful. Among her singular gifts as a writer are the way she swiftly brings her poetry to her prose; her willingness to show up to the page with aspirational levels of vulnerability, grace, and joy; and a clarity of heart amid the heartbreak that together makes this a moving and gorgeous must read.
—Elizabeth Crane, author of This Story Will Change
"When personal tragedy strikes us, first we have to survive, then we have to begin healing. This exquisite book will help you do both. Reading Smith's memoir, I laughed and gasped and ugly-cried and somehow began to process ten years of my own pent-up, frozen grief. This book is nothing less than a cathartic miracle."
—Alissa Nutting, author of Made for Love