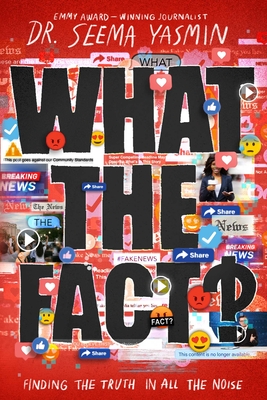 What the Fact?: Finding the Truth in All the Noise
Publication Date:
September 20th, 2022
Publisher:
Simon & Schuster Books for Young Readers
Usually Ships in 1 to 5 Days
Description
From acclaimed writer, journalist, and physician Dr. Seema Yasmin comes a "savvy, accessible, and critical" (Kirkus Reviews, starred review) book about the importance of media literacy, fact-based reporting, and the ability to discern truth from lies.
What is a fact? What are reliable sources? What is news? What is fake news? How can anyone make sense of it anymore? Well, we have to. As conspiracy theories and online hoaxes increasingly become a part of our national discourse and "truth" itself is being questioned, it has never been more vital to build the discernment necessary to tell fact from fiction, and media literacy has never been more important.
In this accessible guide, Dr. Seema Yasmin, an award-winning journalist, scientist, medical professional, and professor, traces the spread of misinformation and disinformation through our fast-moving media landscape and teaches young readers the skills that will help them identify and counter poorly-sourced clickbait and misleading headlines.
Praise for What the Fact?: Finding the Truth in All the Noise
"Educators will applaud a book that helps navigate an already overwhelming problem and curious teens will be rewarded with helpful tips for media consumption. It's a book every library and classroom should have."
— -School Library Journal
"Laden with entertainingly presented tips and techniques, this informative overview will encourage further exploration and contemplation.
A savvy, accessible, and critical guide to media literacy."
— -Kirkus Reviews, STARRED REVIEW
"Journalist Yasmin (If God Is a Virus, for adults) effectively explores contemporary media literacy's barriers and how to overcome them in this eye-opening work told via contagion and vaccine metaphor."
— -Publishers Weekly, *STARRED REVIEW*