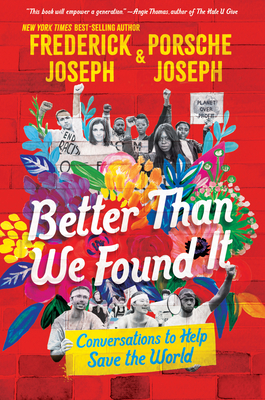 Better Than We Found It: Conversations to Help Save the World
Publication Date:
October 11th, 2022
Usually Ships in 1 to 5 Days
Description
From the New York Times best-selling author of The Black Friend and a seasoned activist comes an indispensable guide to social and political progressivism for young people and anyone wanting to get more involved.
 
What is disinformation, and how does it influence our lives? How did the wealth gap become so staggeringly wide? Why do so many Americans lack access to quality health care? And—most importantly—what can we do about it all? Through a combination of personal anecdotes and interviews, authors Frederick Joseph and Porsche Joseph make a compelling case for tackling some of the biggest issues of our day, from gun violence, the prison system, transphobia, and indigenous land theft to climate change, education, housing, and immigration. Covering sixteen topics and featuring more than two dozen interviews with prominent activists, authors, actors, and politicians, this is the essential resource for those who want to make the world better than we found it.
Featuring interviews with:
Mehcad Brooks
Keah Brown
Julián Castro
Sonja Cherry-Paul
Chelsea Clinton
Charlotte Clymer
Mari Copeny, aka Little Miss Flint
Greg D'Amato
Jesse Katz
Amed Khan
Daniel Alejandro Leon-Davis
Willy and Jo Lorenz
Ben O'Keefe
Brittany Packnett Cunningham
Anna Paquin
Robert Reich
Brandon T. Snider
Nic Stone
Anton Treuer
Andrea Tulee
David Villalpando
Elizabeth Warren
Shannon Watts
Natalie Weaver
Brandon Wolf
Praise for Better Than We Found It: Conversations to Help Save the World
While this material is both accessible and enlightening, the most compelling parts of the book are when the co-authors share personal experiences. They tell stories about events they've witnessed, recalling their emotions and reactions, and explaining the lasting effects. . . . Whether considered individually or taken as a whole, these crucial topics will shape the future, and the Josephs want readers to be ready to join the conversation.
—Booklist (starred review)
Using an approachable first-person narration, the Josephs tackle a wide range of topics, including the climate crisis and environmental racism, wealth gaps, and gun violence. . . . While maintaining a warmth and sense of hope that keeps readers engaged, this worthy read offers necessary deep dives into relevant topics.
—Publishers Weekly
Perfect for anyone interested in helping others or getting involved to help the current generation be better and more informed. . . . The matters are current and provide a tell-tale sign of the times for future readers to consider.
—School Library Connection
Now more than ever, young people yearn to drastically change the world, and the question so many of them pose is how? The Josephs have not only provided answers to the hows but also the whys and the why nows. Better Than We Found It is the manual for change that every young and not-so-young activist-in-the-making needs. This book will empower a generation.
—Angie Thomas, author of The Hate U Give
Better Than We Found It is an unflinching and incisive clarion call, road map, and lighthouse guiding us toward social change and collective liberation in these tough times. Fred and Porsche Joseph demand that we dig deeper into the rotted roots of injustice in order to stand tall on the mighty shoulders of our revolutionary predecessors. Vital and radically profound!
—Ibi Zoboi, New York Times best-selling author and coauthor of Punching the Air
This is a text that not only debunks the myth that certain topics are 'too complex' for young people but also breaks said topics down in a way that young people can understand, identify with, discuss . . . and push back against. Should be required reading for every high schooler in America.
—Nic Stone, author of Dear Martin
Delivering clear, approachable, and intentional messaging, Better Than We Found It enables its audience to understand the biggest issues of our time in order to reflect, repurpose, and revolutionize our future. Serving as the catalyst to understanding so many of the crises facing our current generation of young people, Better Than We Found It is THE essential bread-crumb trail to initiate readers' understanding of the widespread inequalities in our world and to help them do something about them. Better Than We Found It is an invitation to safeguard the future, a powerful and accessible book that empowers readers to disengage from detrimental systems of regressive inequity in order to build a progressive and hopeful tomorrow.
—Willy and Jo Lorenz, writers and cofounders of the Progressivists
Insightful, heartfelt, and informed, Better Than We Found It lives up to its name.
—Dr. Anton Treuer, educator and author of Everything You Wanted to Know about Indians But Were Afraid to Ask
In this comprehensive, intersectional callout of inequitable systems and institutions, the Josephs call us in, focusing our attention on not only what is important to fight against but also what is critical to fight for. This book is urgent, as is the work we each must do to dismantle oppressive forces that work to divide and destroy us.
—Dr. Sonja Cherry-Paul, educator and coauthor of Stamped (for Kids)
Better Than We Found It is a singular guide to making the world just that—better than we found it. But with so much going wrong, it can be hard to know where to start. Through intimate interviews with some of the most impactful leaders of today, the Josephs weave a powerful guide for the next generation, empowering them to understand and take on some of today's biggest challenges. This book will leave you fired up and ready to be the change.
—Ben O'Keefe, social change activist and political commentator
Not only does this book touch on how to get involved in the climate crisis, it also gives advice for how to help take action on systemic racism, transphobia, the housing crisis, and more. It's not only for young readers, and it's a great place to start for dozens of interviews with current activists and politicians on how to get involved on the issues that matter most.
—Book Riot