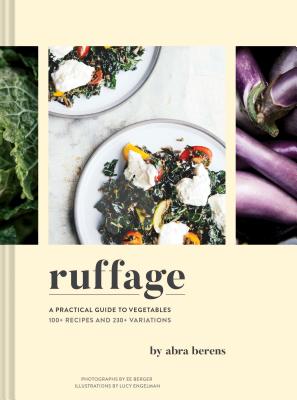 Ruffage: A Practical Guide to Vegetables
Publication Date:
April 23rd, 2019
Publisher:
Chronicle Books
Usually Ships in 1 to 5 Days
Description
Vegetables made easy, accessible, and exciting in a gorgeous James Beard Award Nominee cookbook by trailblazing chef and former farmer Abra Berens.
"This book acts as a veritable encyclopedia of vegetables, with over 100 recipes and 200-plus variations featuring 29 different types of produce."—mindbodygreen
Ruffage focuses on the simple techniques that help any cook prepare a variety of delicious vegetables in a number of ways. Filled with strategies and practical advice from acclaimed Midwestern chef Abra Berens, author of the acclaimed Grist, this plant-forward cookbook tackles the question home cooks ask themselves about vegetables: How do I cook this? How do I make this exciting? Do I store this in the fridge? How do I make this into dinner?
Mouthwatering recipes include Shaved Cabbage with Chili Oil, Cilantro, and Charred Melon; Blistered Cucumbers with Cumin Yogurt and Parsley; Charred Head Lettuce with Hard-Boiled Egg, Anchovy Vinaigrette, and Garlic Bread Crumbs; Massaged Kale with Creamed Mozzarella, Tomatoes, and Wild Rice; Poached Radishes with White Wine, Chicken Stock and Butter; and much more.
A how-to vegetable cookbook spanning 29 types of vegetables, these recipes and techniques result in new flavors, textures, and ways to enjoy all the vegetables you want to eat. From confit to caramelized and everything in between—braised, blistered, roasted, and raw—the cooking methods covered here make this a go-to reference for vegetarians and non-vegetarians alike. You will never look at vegetables the same way again.
WHAT'S INSIDE: Organized alphabetically by vegetable, from asparagus to zucchini, each chapter opens with an homage to the ingredients and variations on how to prepare them. Features 100 straightforward recipes, each with 3 or more variations, and 140 photographs that show off not only the finished dishes, but also the vegetables and farms behind them.
AMONG THE BEST VEGETABLE COOKBOOKS: Named a Best Cookbook by the New York Times and Bon Appetit (Spring 2019) and nominated for 2020 James Beard Award for Best Cookbooks – Vegetable-Focused Cooking.
VEGGIE STARS & SIDES: Ruffage will help you become empowered to shop for, store, and cook vegetables every day and in a variety of ways as a side or a main meal. Take any recipe in this book and add a roasted chicken thigh, seared piece of fish, or hard-boiled egg to turn the dish into a meal not just vegetarians will enjoy.
Perfect for:
Gift or self-purchase for home cooks, cookbook collectors, and food enthusiasts
Anyone wanting to explore a vegetable-forward lifestyle
Fans of Six Seasons; One Pan, Two Plates; Salad Freak; Milk Street Vegetables; or Yotam Ottolenghi cookbooks
Pair with Berens's Grist: A Practical Guide to Cooking Grains, Beans, Seeds, and Legumes, named a New York Times Best Cookbook of 2021
Praise for Ruffage: A Practical Guide to Vegetables
Independent Publishers Book Awards Silver Medal Winner: Cookbooks – General
"Abra Berens' cooking is influenced by her time as a farmer, which means that she has an instinct and techniques for what to do with tomatoes that are perfect, heavy orbs of juice, along with the ones that got picked a little hard by mistake. Hers is a smart way of cooking, a curious, thoughtful way of cooking, but most of all, a cooking of good spirit. Ruffage is a cookbook that's an idea book, a learning book, a live-with-you-in-the-kitchen book. I've dog-eared so many pages: creamed mozzarella, charred green beans and fat chunks of tomato drizzled with tuna mayo, mustard braised potatoes with chicken thighs. I mentioned the creamed mozzarella, right?" —Francis Lam, Host of The Splendid Table
"Crammed with exciting ideas that encourage creativity, this lively book will quickly become an essential item in the home cook's library."—Library Journal (starred review)
"Things in my kitchen have changed since Ruffage arrived. This organized, easygoing guide to 29 vegetables offers a few cooking methods for each one, supplemented by several variations. —Kim Severson, The New York Times (named one of the 12 Best Cookbooks of Spring 2019)
"[Ruffage] is a total classic in the making."—Christina Chaey, associate editor, Bon Appetit
"Vegetables do not need to be boring and can make delicious nibbles when dining outside. You will learn simple new cooking methods such as how to caramelise, with dishes including asparagus, courgette, cabbage and cucumber."—The Sun (UK)
"With a farmer's wisdom and chef's creativity, Abra Berens will change the way you look at everyday vegetables."—Epoch Times
"This book acts as a veritable encyclopedia of vegetables, with over 100 recipes and 200-plus variations featuring 29 different types of produce."—MindBodyGreen (named one of the 10 Best Healthy Cookbooks to Buy This Spring
"The delightfully unexpected combination of textures, flavors and colors is genius, and reinforces one quote from Berens that concisely sums up her philosophy: "There's always another way to eat a carrot."—Atlanta Journal Constitution