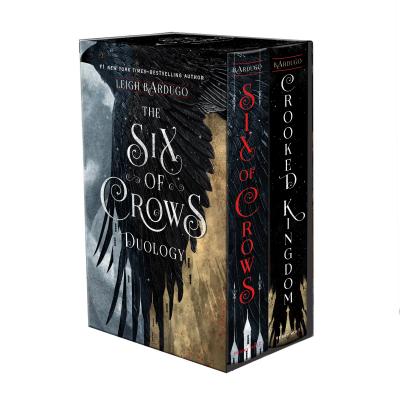 Six of Crows Boxed Set: Six of Crows, Crooked Kingdom
Publication Date:
October 16th, 2018
Usually Ships in 1 to 5 Days
Description
See the Grishaverse come to life on screen with the Netflix series, Shadow and Bone -- Season 2 streaming now!
The gripping Six of Crows and Crooked Kingdom duology from #1 New York Times bestselling author Leigh Bardugo, is now available in a stunning paperback boxed set.
Six dangerous outcasts. One impossible heist. Set in the same world as the New York Times-bestselling The Grisha Trilogy, Leigh Bardugo's Six of Crows introduces readers to a whole new cast of fantastic characters, cities, and cultures. Follow Kaz and his crew into a world of magic and mayhem as they attempt to pull off—and survive—the job of a lifetime.
Read all the books in the Grishaverse!
The Shadow and Bone Trilogy
(previously published as The Grisha Trilogy)
Shadow and Bone
Siege and Storm
Ruin and Rising
The Six of Crows Duology
Six of Crows
Crooked Kingdom
The King of Scars Duology
King of Scars
Rule of Wolves
The Language of Thorns: Midnight Tales and Dangerous Magic
Severed Moon: A Year-Long Journal of Magic
The Lives of Saints
Demon in the Wood Graphic Novel
#1 New York Times bestseller
Praise for Six of Crows Boxed Set: Six of Crows, Crooked Kingdom
Praise for Crooked Kingdom:
"A delicious blend of masterfully executed elements... Bardugo outdoes herself in this exhilarating follow-up, and series fans will have their eyes glued to every page." —Booklist, starred review

"Un-put-down-able excitement from beginning to end" —Kirkus Reviews, starred review
"Bardugo's ingenious plotting that characterized Crows is again on full display, and the backstories, loyalties, flaws, and romantic alliances….are richly developed." —The Bulletin, starred review
Praise for Six of Crows:
"This has all the right elements to keep readers enthralled: a cunning leader with a plan for every occasion, nigh-impossible odds, an entertainingly combative team of skilled misfits, a twisty plot, and a nerve-wracking cliffhanger." —Publishers Weekly, starred review
"Cracking page-turner with a multi ethnic band of misfits with differing sexual orientations who satisfyingly, believably jell into a family." —Kirkus Reviews, starred review
"Set in a world that will be familiar to fans of the author, this book can be fully enjoyed without having read any previous title. . . . This is an easy choice for teens who enjoyed The Grisha Trilogy, Diviners, or any of the Shadowhunter books." —VOYA, starred review
"The whirlwind pace, along with some witty banter, burgeoning romance, and high-stakes action, makes this series opener a surefire crowd-pleaser." —Booklist
"Six of Crows is a twisty and elegantly crafted masterpiece that thrilled me from the beginning to end." —New York Times-bestselling author Holly Black
"Six of Crows [is] one of those all-too-rare, unputdownable books that keeps your eyes glued to the page and your brain scrambling to figure out what's going to happen next." —Michael Dante DiMartino, co-creator of Avatar: The Last Airbender and The Legend of Korra
"There's conflict between morality and amorality and an appetite for sometimes grimace-inducing violence that recalls the Game of Thrones series. But for every bloody exchange there are pages of crackling dialogue and sumptuous description. Bardugo dives deep into this world, with full color and sound. If you're not careful, it'll steal all your time." —The New York Times Book Review