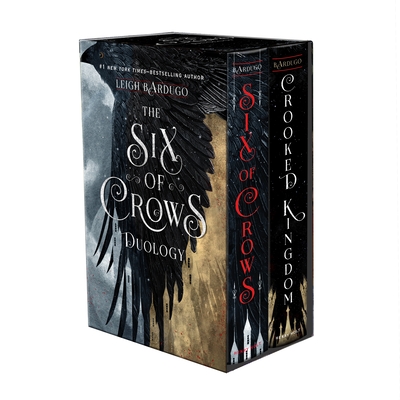 The Six of Crows Duology Boxed Set: Six of Crows and Crooked Kingdom
Publication Date:
September 27th, 2016
Publisher:
Henry Holt and Co. (BYR)
Usually Ships in 1 to 5 Days
Description
See the Grishaverse come to life on screen with the Netflix series, Shadow and Bone. Catch up on the action and meet the Crows, Kaz, Jesper, Inej, and the star-crossed Nina and Matthias, before Season 2 premieres on March 16, 2023!

Six dangerous outcasts. One impossible heist. The gripping Six of Crows and Crooked Kingdom duology, by #1 New York Times-bestselling author Leigh Bardugo, is now available in a stunning hardcover boxed set.
Follow Kaz and his crew into a world of magic and mayhem as they attempt to pull off—and survive—the job of a lifetime.
Six of Crows
Ketterdam: a bustling hub of international trade where anything can be had for the right price—and no one knows that better than criminal prodigy Kaz Brekker. Kaz is offered a chance at a deadly heist that could make him rich beyond his wildest dreams. But he can't pull it off alone. . . . Kaz's crew of six is the only thing that might stand between the world and destruction—if they don't kill each other first.
Crooked Kingdom
Kaz Brekker and his crew have just pulled off a heist so daring even they didn't think they'd survive. But instead of divvying up a fat reward, they're right back to fighting for their lives. Double-crossed and badly weakened, the crew is low on resources, allies, and hope. As powerful forces from around the world descend on Ketterdam to root out the secrets of the dangerous drug known as jurda parem, old rivals and new enemies emerge to challenge Kaz's cunning and test the team's fragile loyalties.
Praise for The Six of Crows Duology Boxed Set: Six of Crows and Crooked Kingdom
Praise for Six of Crows:
"Pages of crackling dialogue and sumptuous description . . . If you're not careful, it'll steal all your time."—The New York Times
"Harry Potter meets Game of Thrones with a dash of 19th century Europe and a caper twist."—Los Angeles Times
"If Ocean's 11 was a textbook exercise in plotting, character development and the ol' bait-and-switch reveal, then Six Of Crows is a thesis on how these lessons can be deployed in genre fiction."—NPR.
"[Six of Crows] is a masterfully plotted, multiple-P.O.V. heist tale. Each of the six characters central to the narrative are from "desperate situations" fleshed out by Bardugo's richly told backstories, and take on a crazy risky quest."—Vanity Fair
"Utterly, extremely bewitching."—The Guardian
"This has all the right elements to keep readers enthralled: a cunning leader with a plan for every occasion, nigh-impossible odds, an entertainingly combative team of skilled misfits, a twisty plot, and a nerve-wracking cliffhanger."—Publishers Weekly, starred review
"Cracking page-turner with a multi ethnic band of misfits with differing sexual orientations who satisfyingly, believably jell into a family."—Kirkus Reviews, starred review
"Set in a world that will be familiar to fans of the author, this book can be fully enjoyed without having read any previous title. . . . This is an easy choice for teens who enjoyed The Grisha Trilogy, Diviners, or any of the Shadowhunter books."—VOYA, starred review
"The whirlwind pace, along with some witty banter, burgeoning romance, and high-stakes action, makes this series opener a surefire crowd-pleaser."—Booklist