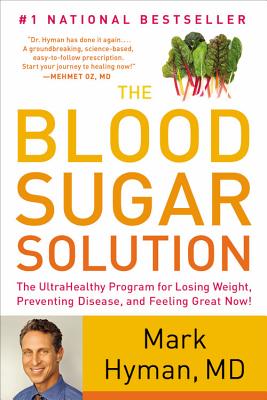 The Blood Sugar Solution: The UltraHealthy Program for Losing Weight, Preventing Disease, and Feeling Great Now! (The Dr. Hyman Library #1)
Publication Date:
December 30th, 2014
Publisher:
Little, Brown Spark
Usually Ships in 1 to 5 Days
Description
Find balance in your life and in your blood sugar with the easy to follow guide on leading a healthier life and being a happier person - perfect for anyone looking to take control of their body!
In The Blood Sugar Solution, Dr. Mark Hyman reveals that the secret solution to losing weight and preventing not just diabetes but also heart disease, stroke, dementia, and cancer is balanced insulin levels. Dr. Hyman describes the seven keys to achieving wellness -- nutrition, hormones, inflammation, digestion, detoxification, energy metabolism, and a calm mind -- and explains his revolutionary six-week healthy-living program.
With advice on diet, green living, supplements and medication, exercise, and personalizing the plan for optimal results, the book also teaches readers how to maintain lifelong health. Groundbreaking and timely, The Blood Sugar Solution is the fastest way to lose weight, prevent disease, and feel better than ever.
Praise for The Blood Sugar Solution: The UltraHealthy Program for Losing Weight, Preventing Disease, and Feeling Great Now! (The Dr. Hyman Library #1)
"I hope Dr. Hyman's new book will inspire you as he has inspired me."—President Bill Clinton
"Dr. Hyman has performed a great service, this time by providing a blueprint for attacking diabesity for individuals struggling with its complications and for the larger community, where it is a major economic as well as major health problem."—Arthur Agatston, MD, author of The South Beach Diet
"If you have struggled with weight and ill health, you will find a new doorway to wellness through Dr. Hyman's solid science-based, personalized solution."—Deepak Chopra, MD
"Dr. Hyman has done it again with a lucid description of the causes of the diabesity epidemic and a powerful treatment program. The Blood Sugar Solution is a must-read for anyone anywhere on the spectrum between mild insulin resistance and full-blown Type-2 diabetes--a groundbreaking, science-based, easy-to-follow prescription. Start your journey to healing now!"—Mehmet Oz, MD
"The Blood Sugar Solution is spot-on accurate. This is a blueprint for restoring the health of our nation!"—Christiane Northrup, MD, author of Women's Bodies, Women's Wisdom and The Wisdom of Menopause
"In The Blood Sugar Solution, Mark Hyman maps a road to health that will benefit anyone. Read it for yourself, your family, your friends. Give this book to the people you love."—Daniel Goleman, author of Emotional Intelligence
"Let Mark Hyman be your guide and your teacher as you create a happy, healthy body filled with sustainable energy and balance. I can't say enough about this brilliant pioneer, and once you read his book, I know you will agree."—Kris Carr, author of Crazy Sexy Diet
"If you want to be empowered to change your life, lose weight, and get to the bottom of chronic health problems, The Blood Sugar Solution by Dr. Mark Hyman will take you all the way there. Read this book and solve your struggles with weight, diabetes, and other diseases forever."—Jack Canfield, coauthor of the Chicken Soup for the Soul series
"Dr. Hyman once again nails the problems and provides real solutions."—Joseph Pizzorno, ND, coauthor of Encyclopedia of Natural Medicine
"Dr. Mark Hyman offers life-giving hope to a world plagued by diabetes. Learn from him and you will surely lower your blood sugar-and most likely live longer and better."—James S. Gordon, MD, founder and director of The Center for Mind-Body Medicine and author of Unstuck
"Dr. Hyman has a unique ability to see past the many adverse effects of a lifestyle at odds with health to the underlying causes both within and all around us. He provides detailed guidance for both individuals and the population to avoid the perils of obesity and chronic disease--and get to health."—David L. Katz, MD, Director, Yale University Prevention Research Center
"Functional medicine pioneer Hyman... points to imbalances in seven body systems that cause life-altering chronic illness. Quizzes, shopping lists, recipes, and tips for overcoming obstacles will keep readers on track, while Hyman's memorable terminology, passion, and simplicity will keep them highly motivated."—Publishers Weekly
"Hyman's book is mindful, comprehensive and impeccably organized...An avalanche of vital information and advice from an enthusiastic wellness expert."—Kirkus Reviews
"Dr. Hyman makes managing your health simpler than you ever thought possible. There's no time like the present to get started. Start today!"—Rick Warren
"Diabetes is completely preventable and even reversible for most people--today--simply by changing diet and lifestyle. In The Blood Sugar Solution, Dr. Mark Hyman shows you how."—Dean Ornish, MD