Discounted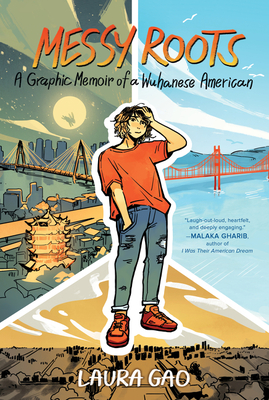 Messy Roots: A Graphic Memoir of a Wuhanese American
Previous price:

$18.99
Current price:

$14.99
Publication Date:
March 8th, 2022
Usually Ships in 1 to 5 Days
Laura Gao's debut graphic novel shows the power of the form. Dynamic linework and framing conveys narrative as sharply as the dialogue. Balancing humor and heartbreak, this book will be heralded on every list—exactly where it belongs.
March/April 2022 Kids Indie Next List
Description
"Messy Roots is a laugh-out-loud, heartfelt, and deeply engaging story of their journey to find themself--as an American, as the daughter of Chinese immigrants, as a queer person, and as a Wuhanese American in the middle of a pandemic."—Malaka Gharib, author of I Was Their American Dream
After spending her early years in Wuhan, China, riding water buffalos and devouring stinky tofu, Laura immigrates to Texas, where her hometown is as foreign as Mars—at least until 2020, when COVID-19 makes Wuhan a household name.
In Messy Roots, Laura illustrates her coming-of-age as the girl who simply wants to make the basketball team, escape Chinese school, and figure out why girls make her heart flutter.
Insightful, original, and hilarious, toggling seamlessly between past and present, China and America, Gao's debut is a tour de force of graphic storytelling.
Praise for Messy Roots: A Graphic Memoir of a Wuhanese American
"In this fresh, frank, and tender debut, author-illustrator Gao offers a compellingly layered graphic memoir.... A multidimensional, thoroughly entertaining account of growing into queer Asian American identity." — Publishers Weekly (starred review)
"In this poignant memoir, Gao ­conveys her love for her home country and her journey as an immigrant. Her voice is grounded yet humorous; she illustrates a more ­nuanced Wuhan than the one depicted in current media, while conveying the difficulty of being a part of American society yet never feeling truly at home. A tender story of self-acceptance that lifts the story of Wuhan beyond COVID and shines light on a ­region with a rich culture and history." — School Library Journal (starred review)
"Gao personalizes her experiences with insight and humor. This book delivers a coming-of-age story that tackles themes of immigration, assimilation, racism, sexuality, and self-identity. An affecting and candid depiction of the universal search for one's place in the world." — Horn Book (starred review)
"The narrative overlays immigrant community dynamics with the intersections of race, ethnicity, and gender in young adults' identity development while drawing on Chinese cultural icons old and new, such as White Rabbit candies.... A nuanced representation of being Asian and transnational in the contemporary U.S."  — Kirkus Reviews
"In this beautifully illustrated graphic memoir, debut author/artist Gao does an excellent job of representing the complexity and challenges that came with growing up as young Chinese immigrant... [H]eartfelt and relatable." — Booklist
"Messy Roots is a laugh-out-loud, heartfelt and deeply engaging story of their journey to find themself--as an American, as the daughter of Chinese immigrants, as a queer person and as a Wuhanese American in the middle of a pandemic. Through hilarious inner dialogue, videogaming references and fun explainers, Gao effortlessly brings readers into their world."  — Malaka Gharib, author of I Was Their American Dream
"Messy Roots is funny, intimate, absorbing, and deeply moving. What a gift to have this peek into Laura Gao's memories, in all their sweetness and complexity."  — Becky Albertalli, New York Times bestselling author of Kate in Waiting
"Finding ourselves can be messy, but Laura Gao tells her story of self-discovery with honest and vulnerable beauty." — Mike Curato, Lambda Award-winning author of Flamer
"Messy Roots surprised me in all the best ways. It's a book that will stay with you for a long time to come." — Tillie Walden, author of On a Sunbeam
"Hilarious, heartfelt, and beautifully illustrated, Messy Roots deserves to join the Chinese American canon right next to Gene Luen Yang's American Born Chinese." — R.F. Kuang, author of The Poppy War
"Messy Roots is about the hardship of identity and the beautiful but messy journey to find it." — Aminder Dhaliwal, author of Cyclopedia Exotica